Deli, Bakery, & Wine Bar
Old-world ingredients, Denver style.
More than a neighborhood deli
We're best known for our signature sandwiches, but throughout the day, Leven plays the role of deli, coffee bar, wine shop, bakery, market, caterer, and neighborhood hangout.
We keep our ingredients simple, build on tradition, and bake a bit of joy into everything we do. You can find us right next to the Denver Art Museum, come say hi!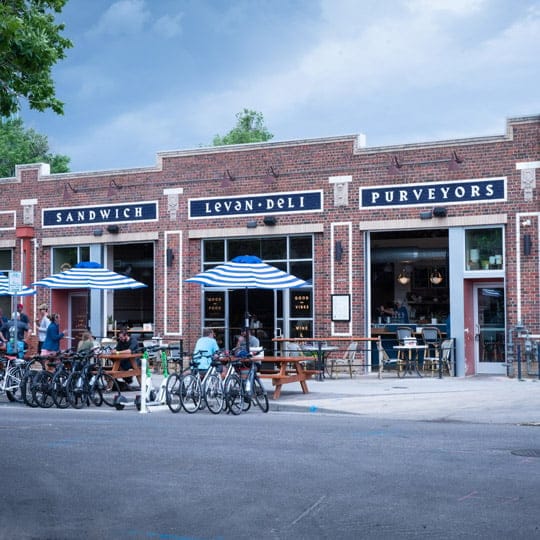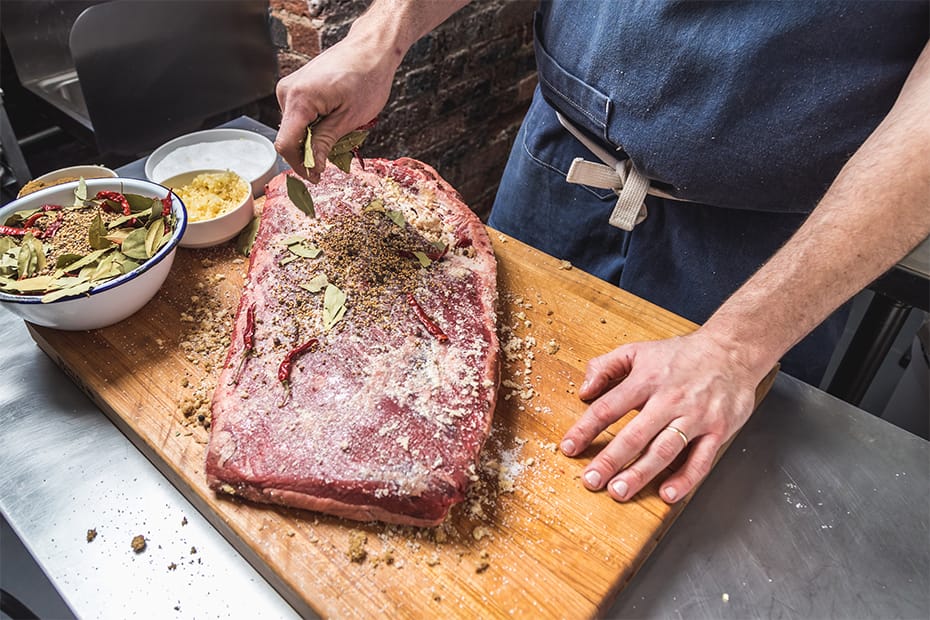 Give the gift of pastrami!
When you pick up a Leven gift card, you're not only getting the most delicious gift money can buy, but also investing in our future. A big THANK YOU to everyone who's supported us (and other Denver small businesses) through this uncertain era.
Buy a gift card
Crafted With Care
What distinguishes a decent meal from an exceptional culinary experience? Details. From building our team, to brightening your day; a perfect fermentation, to fresh-baked everything: we've relentlessly refined even the smallest details to make one delightful deli.
More About Leven
Get all your favorites, to-go
We offer traditional pickup, curbside pickup, and delivery to the Denver metro area (up to 5 miles, $7.50 delivery charge via DoorDash).
Grab your favorite sandwich or make your own Happy Hour with our deli case items, charcuterie … and, yes, bottles of wine to-go! We greatly appreciate your support.
Five Star Reviews
"Just when we thought our day couldn't get any better, we walked into Leven … best food, great environment, outstanding service!"

— Doug H. —
"Truly an underrated gem in the Golden Triangle! The food is TO DIE FOR. Everything was cut in front of me and the staff is incredible. I plan on bringing every single one of my visitors here!"

— Alex S. —
"Such a neat bakery-restaurant-cafe! Stopped for lunch and enjoyed the chickpea flatbread sandwich – one of numerous vegetarian options. It was so good and a great amount of food for the price!"

— Chrissy M. —
"Holy mother nature … Everything was spot on over the moon delicious and served with gratitude. Not only do they prepare the pastrami meat, they make their own bread, dressings and even mustard. My mouth and belly are sooooooo happy!"

— Nina S. —
"This Ham Jam sandwich left a huge smile on my face. I have no words for their handmade pickles but one, MORE!!! Lol I wish they sold jars of them, I'd be a couple! I can't wait to go back."

— Jeremy K. —
"Ridiculously delicious food right next too the art museum. The chili, mushroom soup, and chicken sub were so good, I wanted to order seconds of everything. Wish I could eat there every day!"

— Bee M. —
"The best place! Leven is so cute with plenty of outdoor seating and an airy inside. The bottles of wine are super affordable and the food is delicious. I dream about the toasted bread and all of the spreads!"

— Alana M. —
"One word: WOW! I love this place. A true Jewish style deli. The pastrami was out of this world. And the mustard was so great I bought a tub of it. But back to the pastrami: it's perfection. I can't wait to go back. And often."

— Neil R. —
"When there is a line after lunch time on a Sunday, you know you're in the right place. Pastrami Reuben gets a 10/10, lots of yummy pastrami, perfect for sharing. Such a friendly staff too. Can't recommend enough."

— Erica K. —
What's a deli-bakery-wine-bar?
Leven is a unique neighborhood hangout with all the things that make us happiest: old-world ingredients, fresh baked bread, accessible wines, familiar faces, and genuine hospitality.
Where are you located?
You can find us at 123 West 12th Avenue, right next to the Denver Art Museum. We're centrally located in the heart Denver's Golden Triangle / Cap Hill neighborhood.
Do you offer delivery?
Delivery is back! We're currently delivering anywhere in a 5 mile radius for a $7.50 delivery fee. We can also accommodate broader delivery requirements for catering orders, call 303-325-5691 to inquire.
What kind of catering do you offer?
We specialize in events offering casual food and drink for 8 to 150 participants, ranging from business lunches, to corporate fundraisers, to private parties.
What are your hours?
We're open every day for breakfast 7a-11a, and lunch 11a-4p. Mondays through Fridays, we also offer a Happy Hour with limited food service from 4p-7p.
When does the coffee bar turn into a wine bar?
Choose your own adventure: we serve coffee and wine all day, just the ratio shifts toward the latter over time. We also offer cork-and-go and a retail wine shop, so you can bring the fun home.
When can I buy fresh bread?
Our first loaves of fresh-baked sourdough and rye drop at 8a every morning. Loaves are generally available throughout the day, but we do need to save some for the sandos!
Is it Leven, Levin, or Levan?
The official spelling is "Leven", a traditional variant of leaven, which is what makes dough rise. Unofficially, the spelling doesn't matter as long as we lighten your day and lift your spirits.
This error message is only visible to WordPress admins
There has been a problem with your Instagram Feed.
No more boring catering!
Leven catering is the easy way to add something special to your next meeting, business lunch, company event, family reunion, holiday party, or joyous gathering of any kind.
Breakfast, lunch, and happy hour
We serve breakfast from 8a until 11a, lunch from 11a until 4p, and on weekdays we offer happy hour from 4p until 7p. Feel free to place an order in advance!