Denver's Best Deli Catering
Leven-up your next meeting or event.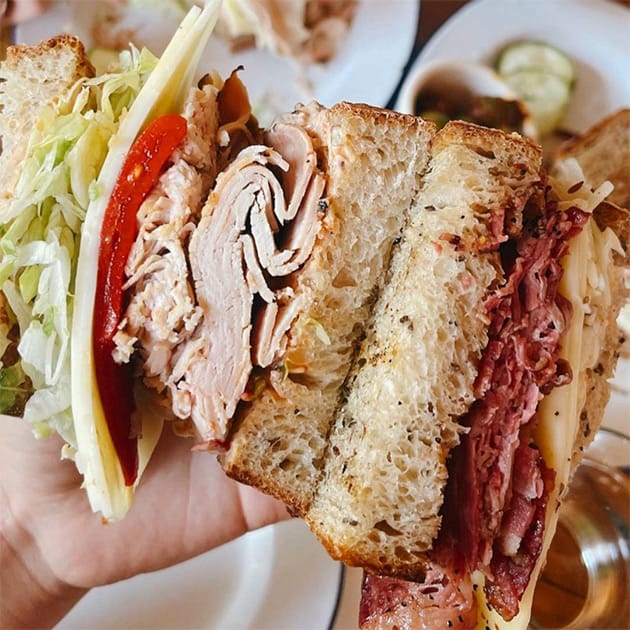 No More Boring Catering!
Leven catering is the easy way to add something special to your next meeting, business lunch, company event, family reunion, holiday party, or joyous gathering of any kind.
We offer up fresh, made-from-scratch boxed lunches, deli sandwiches, sides, salads, and party trays that will have your guests asking where they can get more.
For catering with 8 or more guests, please order through the EZ Cater platform or email us with any questions:
What kind of catering do you offer?
We specialize in events offering casual food and drink for 8 to 150 participants. These can range from business lunches, to corporate fundraisers, to private parties: if you want delicious sandwiches, sides, charcuterie boards, spreads, breads, and drinks, we'll deliver!
How far in advance do I have to order?
We ask for a minimum of 24 hours notice on catering orders, ideally 48 hours. That said, feel free give us a call if you're in a bind, and we'll do our best to accommodate you.
Do you deliver catering orders?
We can provide delivery for all catering orders within 25 miles for a flat $30 fee or 10% of the total for orders over $300. Let us know if you have a special request, we probably can make it work.
Denver Boxed Lunches
If you're hosting a meeting or event in the Denver area, our boxed lunches are the perfect catering solution.
For each of your guests, we'll box up their favorite combination of sandwich, salad, side, and/or desert.
Nothing pulls people together quite like shared experiences over great foods and drinks!
"Leven boxed lunches for the win! Super easy and delightful lunch experience for our team of 40+, everyone loved the sandwich selection, chips and cookies are such a beloved addition (and the cookies are wild – so huge and delicious!). Will definitely be ordering from Leven again."

— Jen —
"Leven Deli was amazing! Everyone loved the options and the unique boxed sandwich and boxed salad lunches! I HIGHLY recommend! I will keep Leven in my rotation for sure!"

— Stephanie —
"SOOO Great! Leven is one of our MOST favorite. The chickpea, Rueben, turkey, and egg salad are delicious, and their brownies are phenomenal. The drivers are always on time and very helpful with setup. We will definitely order again soon."

— Melanie —
If you're looking for fresh, made from scratch boxed lunches, deli sandwiches, sides, and salads to cater your next holiday party, company lunch, or family reunion, Leven Deli has you covered. Let us show you why we are quickly becoming everyone's favorite Denver catering company.
Our deli catering menu lets you pick from individually packed deli sandwiches (a gluten free catering option is available) or salad boxed lunches that include your choice of sandwich or salad, chips, and a home-made cookie. These are perfect for small to medium family or company get-togethers.
For larger groups, check out our most popular "Good Company" sandwich package. This package offers an assortment of our most popular deli sandwiches to easily satisfy 15 to 20 people. We even have vegetarian and gluten-free options to choose from! Add one or more of our delicious sides, desserts, and drinks and you're all set. We offer both lunch & dinner catering with all of your deli catering favorites.
At Leven Deli, virtually everything we offer is handmade in-house. It takes time for us to prepare your perfect catered event, party, lunch, or dinner. Please place your order in advance to ensure we can prepare the freshest, highest-quality catering for your guests!